Amazon.com has offered its latest pilots to the public to gauge their response and figure out which shows have the most potential.
This time around Amazon has offered up five new pilots, which became available on March 17. All five are available to stream with an amazon account and come with a survey viewers can fill out to give feedback.
It's an ambitious line-up for Amazon, who have had varied success with their pilot seasons. They were successful with their line-up in August, and all three potential pilots were picked up. However, the studio's practices have been criticized recently for being problematic. Several outlets, including a piece on vox.com, have pointed out their practice of green lighting shows from male writers while forcing female writers to go through the pilot program. Highlighted in this piece was Transparent's Jill Solloway, whose pilot I Love Dick was in the August line-up, and Gilmore Girls creator Amy Sherman-Palladino, whose new show The Marvelous Mrs. Maisel is in the new batch. Amazon describes Sherman-Palladino's show:
It's 1958 Manhattan and Miriam "Midge" Maisel (Rachel Brosnahan, House of Cards) has everything she's ever wanted—the perfect husband, two kids, and an elegant Upper West Side apartment perfect for hosting Yom Kippur dinner. But her perfect life suddenly takes an unexpected turn and Midge discovers a previously unknown talent—one that changes her life forever. She charts a course that takes her from her comfortable life on Riverside Drive, through the basket houses and nightclubs of Greenwich Village as she storms the world of stand-up comedy…a course that will ultimately lead her to a spot on Johnny Carson's couch.
The second pilot is Oasis, which is based on the cult-hit novel The Book of Strange New Things by author Michel Faber. Oasis follows a chaplain (Richard Madden, Game of Thrones) who is sent into space to help establish a colony on a distant planet. What he ends up discovering not only puts his faith to the test, but life as we know it. The one-hour drama pilot is a co-production of Amazon Studios and Left Bank Productions.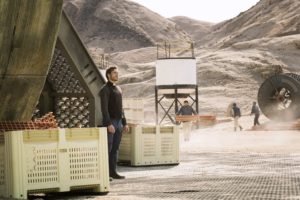 The third, The Legend of Master Legend, is a dark comedy about the life of Frank Lafount, aka Master Legend — a homemade superhero whose mission is to protect the people of Las Vegas from evil doers. Master Legend juggles the demands of justice with the even more complicated demands of his family, who don't see him as a hero at all.
Fourth, Bad Santa's Terry Zwigoff executive produces and directs Budding Prospects. In 1983, three hapless city boys move from their comfort zone of the San Francisco counter-culture to Mendacino to grow marijuana. They expect a back-to-the-land nurturing adventure in a beautiful rustic setting run, but they soon discover the harsh truth. At "The Summer Camp," a miserably run-down shanty out in the middle of nowhere, they are bedeviled by rats, snakes, mosquitoes, unfriendly growing conditions, noisy neighbors, dangerous locals, and menacing law enforcement.
Fifth in the line-up is Amazon's first adult animated comedy show. The New V.I.P.'s follows a group of low level employees who seize control of a major corporation after accidentally murdering their boss. The show was created by Steve Dildarian (The Life & Times of Tim).
All five of the pilots and accompanying survey are available on Amazon.com. Keep an eye out for CommonGeek's reviews for the individual series.